True freedom comes through creative solutions.
Retirement Planning and Investment Services are offered in partnership with Brad Werner and Company, the trusted partner for your financial freedom.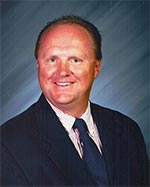 Brad Werner, Accredited Asset Management Specialist, (AAMS), is a financial consultant who is committed to helping his clients find the solutions that will allow them to meet their financial goals. Brad's experienced advice and committed service, as an independent advisor, can help you works toward financial freedom, independence, and enjoying life like never before.
Peace of Mind
For Brad's clients, his ability to help them around and over life's challenges make him an invaluable friend. By working with them to develop financial solutions, he gives them the priceless gift of peace of mind. "The planning process can be liberating," says Brad. "I try to make sure that my clients know that they are on the right track."
Move Toward Financial Freedom with Brad Werner
If you are looking for a professional who can help you reach true financial freedom, know that you can count on Brad Werner and his staff at Brad Werner & Co. for help planning your retirement, investments, and estate.