Gifts That Give Back
Published: 12/05/2018 By: Allegius Credit Union
Published In: Just for fun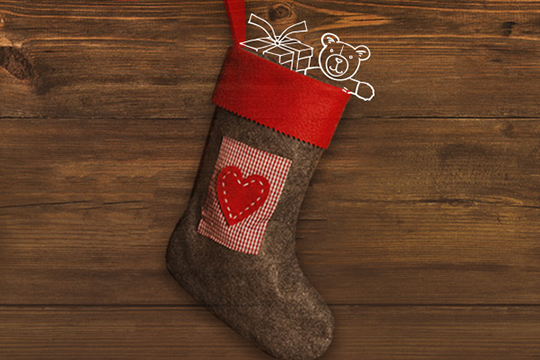 In the spirit of giving that comes with Christmas, the gifts you give can support companies and not-for-profits that support programs, assist communities and promote wellness. Here are some great gifts that also give back to organizations helping those in need. Check them out and consider purchasing a gift from one or more of these worthy causes this holiday season.
cuddle + kind 'Give Life Meaning' print
Give the gift of meals to children in need while keeping your holiday budget on point. These adorable prints bring inspiration via gentle reminders and adorable illustrations. Each print sold provides five meals to children in North America and around the world through the WFP School Meals Program, which provides nutrition to 18.2 million children in 65 countries. Cuddle+kind also provides meals in the USA and Haiti through Children's Hunger Fund. Find your perfect print at http://www.cuddleandkind.com.
Kindness Doll by The Doll Kind
These soft, huggable dolls, available in three styles, offer a double dose of generosity. Each doll comes with 10 tokens for children to give out and are imprinted with "Pay it forward" to lift spirits and encourage recipients to commit their own act of kindness. Additionally, for each doll sold, The Doll Kind will donate a doll to a less fortunate child. Donation sites include orphanages, hospitals, shelters, and more throughout the United States and across the world. Get your Kindness Doll at http://www.thedollkind.com.
Songa Designs Arabella Choker
Fit for an artsy friend, teacher, or anyone who could use a bit of flair, this bib necklace is made with upcycled fabrics and blue and white sisal rope, meaning no two necklaces are the same. Songa (which means "the path forward" in Swahili) helps Rwandan women by offering them stable employment and paying fair wages negotiated by the artisans themselves. Each piece is handmade and is as unique as the woman who crafted it. Explore their items at https://songadesigns.com/collections/bib-necklaces.
WeWOOD, Italy
WeWOOD create beautiful and eco-friendly time pieces with the goal forest conservation and replanting. These timepieces are crafted from a selection of sustainable woods and a range of lovely colors. WeWOOD also plants a tree for every timepiece purchased. The goal is to plant one million trees by 2020. Check out their gorgeous sustainable items at we-wood.com
Two Can Art Jellyfish Tumbler
Two Can Art is the collaborative collection between artist Patti Gay and her son Noah, who is autistic. Noah paints the backgrounds of each piece and then Patti scans them in and creates an image to appear over it. Five percent of the proceeds will be donated to bring awareness of and support to those with autism. You can purchase these unique creations at http://www.twocanart.com/
Audubon Birds of Prey Collection
For the animal-lover on your list, try one of these gifts from the National Audubon Society. Proceeds go to Audubon's mission to conserve and restore natural ecosystems, focusing on birds and their habitats for the benefit of humanity and the earth's biological diversity. Purchase at https://gifts.audubon.org/bird-lover-gifts
Ivory Ella, US/Africa
Experts estimate that poachers kill around 30,000 to 40,000 elephants across Africa for their ivory every year. Motivated by such ominous statistics, a group of five entrepreneurs created Ivory Ella, an online shop selling elephant-branded T- shirts, hoodies and other goods. Their motto is Good Clothes for a Good Cause, and they donate 10% of the shop's net profits to Save the Elephant and other related charities. Check out their inventory on https://www.ivoryella.com/
Sudara Punjammies
These eclectic pajamas are as comfortable as they are stylish. The delicate print on the Mina style features bright pinks, yellows, oranges and reds across a black and ivory patterned background. The loose fit and 100-percent rayon fabric is pure comfort, without sacrificing style. Each pair is made proudly in India by women working to forge a new path, free from sex slavery. Get comfy while giving back with http://sudara.org.
LifeStraw Personal Water Filter
A supremely useful gift for the hiker, camper, or general outdoor enthusiast, the LifeStraw makes dirty water drinkable by removing 99.9% of waterborne bacteria, including E. coli and salmonella. The straw, good for up to 1,000 liters, is a great addition to an emergency preparedness pack. And for each straw purchased, one school child in a developing community receives safe drinking water for an entire school year. Give the gift of clean water at http://lifestraw.com.
Conscious Step Sock Collection
These may be the coolest socks you'll ever give (or get) as a gift. This trio of unisex socks is made with soft organic cotton and crafted in fair trade conditions, along with sporting cool striped and argyle patterns. The yellow and black pair donates the equivalent of two books to schoolchildren in Asia, the argyle pair provides 18 months of safe water for a person in need, and the red and black pair raises awareness around the issue of poverty. Give some or get some at http://consciousstep.com.
Better World Books, US
Better World Books was one of the frontrunners of companies that have adopted giving back at the heart of their business. The Book for Book concept means that for every book sold, Better World Books donates a book to a person in need. They are also eco-friendly, deliveries are "Green-e Climate certified offset", and they redistribute second-hand books, too. View their library at betterworldbooks.com
Hiptipico, Guatemala
Hiptipico is a self-styled fashion brand based in Panajachel, Guatemala, and it focuses on Mayan artisanal creations. Hiptipico, derived from the Spanish "tipico", refers to traditional clothes worn by Mayan people in this part of the Central America. Sustainability, rather than mass-production, is at the heart of the company's philosophy. Prices reflect fair wages for artisans, and the bottom line can be gauged from the superb quality of the jackets, tops, shoes and bags. Take a look at their full line at hiptipico.com
Krochet Kids, Uganda and Peru
Krochet Kids believes vulnerable women living in communities blighted by poverty can flourish. Krochet Kids is nonprofit, and local people in Uganda or Peru create every product in its online shop and each item is signed by the craftsperson who made it. Up to now, products include crochet hats and beanies, plus sweaters, hoodies, T-shirts, dresses, bags and scarves. Check out the handmade items at krochetkids.org
Don't forget that our Allegius branch locations are available to you, no matter when you're shopping for the holidays. Find the location nearest you at https://www.allegius.org/about-us/locations-hours/index.html.
View all posts