Dealers Tips for Buying a New or Used Car
Published: 08/11/2021 By: Allegius Credit Union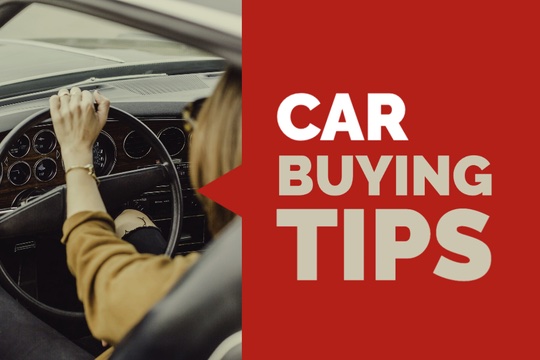 Whether you're in the market for a new or used car, there are always ways to save on your purchase. We've gathered the best tips from car dealers to give you the edge when you go to negotiate the price of your next new car.
Car Buying Tips
Do Your Research
With most car dealerships offering online pricing and a virtual dealership, it's very easy to research all there is to know about a vehicle class, make and model. Be sure to do your research in these areas before heading to the dealership.
Check Dealer Ratings. Be sure to read the online reviews of the dealerships from where you're considering making your purchase. Customer ratings and reviews are a great glimpse into how accommodating a dealership may be and how willing they are to serve their buyers.
Check the Carfax. When a used car arrives at the dealership, the dealer will run the Carfax for that vehicle. When you're checking out a particular vehicle, check to see when that report was run. If it's more than 60 days old, you likely have a little more leverage in negotiating the final sale price, as the dealer will be more likely to want to move the car off the lot. Of course, the Carfax is also great because it gives insight into the vehicle's history, accidents and repair records.
Look at Used Cars in the Same Model. If your dealer has 1-2 year old used models of the car you're considering buying new, be sure to consider them. In some cases, these are either models that were initially leased and turned in (and thus have low mileage) or may just be new cars that weren't quite what their previous owners were looking for when they made their purchase. In either case, it could mean big savings for you if it fits what you're looking for in your new car.
Timing is everything
If you are after a new car, making your purchase toward the end of the model year or right after the newest model has been released may save you thousands. Dealers are interested in moving out new cars that are 1-2 model years behind the latest one, and they are willing to slash prices to avoid paying for inventory that has been on the lot for a while.
For used cars, be sure to check out Certified Pre-Owned cars. You may pay a bit more than non-certified cars, but you'll get many perks, like an extended warranty, free service and an attention to detail on repairs prior to the sale.
As a general rule, waiting until the last week of the year will allow you to cash in on year-end incentives from both the dealer and the car manufacturer. In addition, statistics show waiting until the end of the month will always score you a better price, since salespeople are looking to make their month end quota on sales and are willing to give you more incentives and a better price in order to do so.
Take a Test Drive
Taking a test drive is crucial when choosing a new car, even if you think you know everything about it from reviews and your own research.
Be sure to do your test drive under real life conditions. Nothing will tell you more about how the car will fit into your lifestyle than a test drive with all your kids in the back seat! Planning to use the car for long road trips? Make sure whoever will be riding in the passenger seat comes on the test drive with you to test out comfort level and amenities.
Take the car home overnight. Make sure that new car will fit into your garage by taking it home overnight. It also allows you to test drive the car in what will be its "natural habitat" – your route to and from work, running errands, etc.
Test all the bells and whistles. Are you a big music fan? Be sure to plug your music into the car's stereo system to test it out. Looking at a convertible? Make sure you can get the top up and down on your own. If you're paying extra for certain amenities, be sure to test them to make sure they are operational and are exactly what you are expecting.
Making the Deal
You've found the car and done your research. Now it's time to close the deal and take it home.
Get Pre-Approved for your Auto Loan. Getting pre-approved for your auto loan puts you in a great spot for negotiating the final terms of your car purchase. First, it allows you to know the terms of your financing, including your interest rate and the amount up to which you are approved, giving you a maximum to spend on the new vehicle. It also allows you to shop around to different lenders ahead of time to get the best deal on a loan on your own. Finally, you may be able to leverage your pre-approved loan against financing the dealer is offering to you, which may or may not be a better deal.
Look at the Deal in its Entirety - Not Just the Price! Make sure to not get hung up on the final price of the vehicle. You can also negotiate with your dealer on things like free oil changes and maintenance, free upgrades or other dealer incentives, as well as the price you may receive on your trade in (if you have one).
Don't forget to check out our great tips for buying a new or used car via our FindMyRide service. You can get pre-approved for an auto loan, search for a new or used car in our area, and more! Learn more at https://allegius.groovecar.com
View all posts