Check out Turkey Trot Fun in our Allegius Branch Communities
Published: 11/13/2019 By: Allegius Credit Union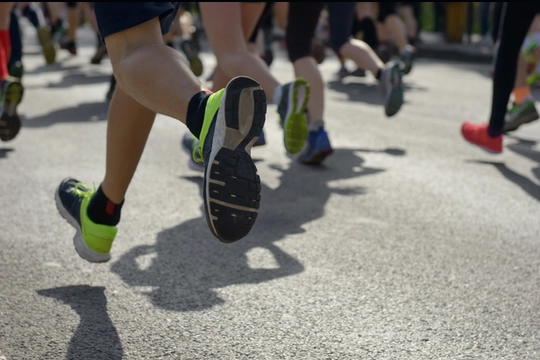 Getting ready for Thanksgiving means pulling out our favorite family recipes, decorating the house and preparing for another lovely holiday season. It can also mean the opportunity to stay fit through the holidays by participating in the local Turkey Trots, Burn the Birds and Drumstick Dashes coming up in November! Don't let the holidays get ahead of your fitness goals, sign up and enjoy the fabulous brisk weather and an energizing walk or run.
LaPorte Turkey Trot in LaPorte, IN the Fifth Annual Thanksgiving Day Turkey Trot 5K Run/Walk benefits the mission of the LaPorte Educational Development Foundation. This year every participant, walkers, runners, joggers, sprinters, children, grandmothers, and everyone in between gets a shirt, and they are going to be awesome.
The Turkey Trot in Portage,IN is an exciting and competitive 4 mile, professionally-timed race offered on Thanksgiving morning. This is fun for the whole family with a 1k Kids Fun Run offered before the competitive race begins. Also, a non-competitive 5k walk/run will be held that morning.
Run over to the Valparaiso Turkey Trot in Valparaiso, IN a holiday tradition since 2003. The Valparaiso Turkey Trot brings together families and friends from Indiana, Illinois and Michigan to kick off Thanksgiving Day. The race includes a 10K Run and 5K Walk/Run through the streets of Valparaiso, Indiana. Hosted by the Porter-Starke Services Foundation, event proceeds benefit mental health and wellness programs and resources in Northwest Indiana. With 4,000 runners and walkers in 2016, the Valparaiso Turkey Trot has become the largest race of its kind in Northwest Indiana.

The Reason for the Season Run in DeMotte, IN will be a great event. Proceeds from this 5k will support the Backpack Program for students of KVSC. The Backpack Program is designed to meet the needs of hungry children at times when other resources are not available, especially on weekends.
Turkey Recovery 4 Miler. In Porter, IN. This race will feature "Turkey Bowling" using this 4 pound frozen turkey. Six lucky raffle winners will get a chance to bowl to win prizes. One raffle ticket will be in your goodie bag and extra tickets can be purchased for $1. The proceeds go to the Town of Porter Parks Department to purchase playground equipment. You have two shots to knock down all the plastic bowling pins. If you obtain a strike or spare you win
View all posts