Saving While Holiday Shopping
Published: 12/04/2019 By: Allegius Credit Union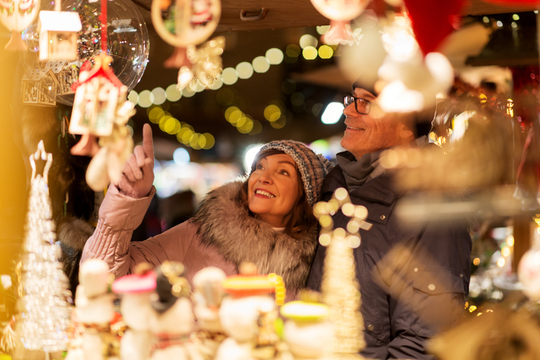 December has arrived, and with it the urge to start shopping for the many folks on your holiday gift giving list. While you're making your list and checking it twice, read about some not so common ways to save on gifts this holiday season.
Price Check!
Sign up for websites like ShopTagr as well as your favorite retailers' websites, to get alerts and emails about sales and specials. Retailer won't give you a price adjustment? Use your credit card to make the purchase and your credit card issuer may honor the adjustment for you. Credit card companies like Citibank, Discover and MasterCard offer this service for card holders.
New to You
Buying slightly used items will not only reduce your carbon footprint but it will reduce the amount you spend for items that may be out of your budget. Websites and apps like Poshmark, Mercari, Letgo, Ebay and more will capitalize on your pennies and help reduce, reuse and recycle.
Get Paid to Shop. No, really.
There are websites out there being paid by major companies to pay you to shop online! Yes, it's for real. Rakuten is one of those websites and holiday shopping can really add up to major dollars. They give you a percentage back on every dollar you spend on retailers like Amazon, Ebay, JCPenny, Old Navy and many many more. They have even higher percentages during the holiday months so go sign up now and get paid to shop.
Get a Discount on Gift Cards for Holiday Shopping
Gift cards are the most requested gift, and probably the easiest one to get. Did you know you can buy discounted gift cards to your favorite shops and retailers online? Check out websites like CardCash, GiftCards.com and Raise for some great deals.
Another great way to save money – purchase a discounted gift card to use for your holiday shopping. Combine with in-store coupons and online discount codes for additional savings.
Wait to Buy…and SAVE!
The early bird doesn't always get the worm, at least when it comes to shopping for some popular holiday items. Unless it's an in-demand toy or a door buster, wait until December 18-24 to purchase toys for the kids on your list, as the prices will likely drop to below deal pricing. The same is true for TVs, which usually see a significant price drop in January and February (think Super Bowl Sales), winter apparel and high-end electronics, which will go on sale in February after the holiday rush. If someone on your gift list has these on their wish list, consider a gift card so he or she can get more bang for their buck after the holidays.
Abandon Your Online Shopping Cart
Procrastinators profit when it comes to online shopping too! Abandon your online shopping cart after you've given the retailer your email address during the checkout process. Some retailers will send you an email with a discount or coupon code to get you back to complete your purchase.
Take Advantage of Discounts on Non-Gift Items
The deals on non-gift items abound during the holiday season as well, so keep your eyes open for great deals on items you'll use year-round. This includes sales at drugstores for non-gift items (personal items, toiletries, etc.). Be on the lookout for sales on wine during the year-end as well, and extra deals from sites like Groupon – you can stock up at a discount and grab a few extra bottles to take to holiday parties.
Wherever you find yourself spending this holiday season, remember that Allegius is always here for you!
View all posts