Saving at the Farmers Market
Published: 08/18/2020 By: Allegius Credit Union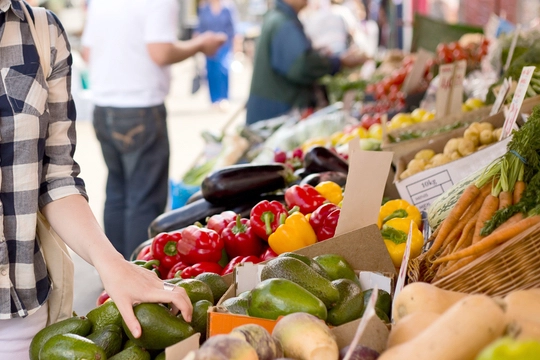 Farmers Market season is here and who doesn't love walking around a lovely market full of fresh produce and happy vendors? It's good to have a game plan before hand so you won't get distracted by the sensory overload of the market. Everything looks so delicious and fresh, but not everything is worth the asking price.
Pace Yourself
Have a good look around and walk through as much of the area as you can before making your first purchase. It will be difficult to resist the initial temptation of all the beautiful items but, if you can stay strong, you might find some great deals that are better than what the first booths have to offer.
Check out all the stalls and take note of prices and freshness, then make your decisions.
Ask for the Sub-Par Produce
All farmers, growers, and food vendors have their less-than-perfect stock and they are usually willing to cut you a deal on it. The perfect stuff will be out front looking beautiful and very tempting, and their sub-par stuff will probably be in baskets under the table.
They don't mind if you ask, a sale is a sale and just because it doesn't look perfect doesn't mean it won't taste great.
Stay in Season
Many of the vendors use greenhouses to make sure they will have vegetables ready to sell. There is nothing wrong with that but shopping for what is in season right now will yield you the best flavor for your money and often, the best price.
In the early months of the market, get your spring items that have ripened: asparagus, radishes, rhubarb, scallions, mustard greens, apricots, lettuces and new potatoes. If it is something noticeably out-of-season like peaches or apples, the vendor more than likely purchased them from a distributor and you may as well get them from the grocery store.
Skip the Baked Goods
Often times, vendors selling their bakery wares must mark up their prices because they already have a store front somewhere. While a lavender orange scone may be calling to you, get their card and visit their store, you won't have to pay the markup and you'll also be guaranteed it was fresh baked that day.
No matter what you are looking for at the market, make sure you have fun, talk to as many vendors as you can, and spend wisely. After all, half the enjoyment of a farmer's market is talking to the farmers. Don't forget to talk to your friends at Allegius for all your financial foodie needs.
View all posts