Masking Facts to Prevent the Spread of COVID-19
Published: 09/10/2020 By: Allegius Credit Union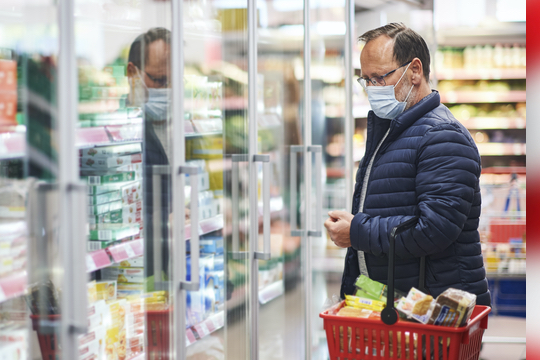 With Indiana now requiring masks in all public places, it is important at this time we all understand the greater good of wearing masks in order to keep our communities and loved ones safe. It is now part of being outdoors, socializing, running errands, school, and community gatherings of any kind. Here are a few facts to clear up some common misconceptions about how safe and effective masks are, how to use them properly, and when/where masks are needed.
Fact: Cloth face masks are effective in that they create a barrier between your mouth and nose and those around you.
Masking makes it more difficult for the droplets that spread coronavirus to reach other people. Did you know that droplets of phlegm and mucus projected from sneezes, coughing, and talking can hang in the air in low ventilated indoor spaces (grocery stores) for hours? Everyone wearing masks prevents excess phlegm from hanging around and everyone having to walk right through it.
Fact: Different kinds of masks serve different purposes.


The average person not working in a medical environment or not suffering from pre-existing conditions that COVID-19 would exacerbate can wear cloth masks to conserve personal protective equipment (PPE) for those who seriously need them.
Fact: Carbon dioxide will not build up or get trapped under the cloth and make you sick.
There was recently a doctor who ran close to a marathon's worth of mileage with a cloth mask on to prove there would be no ill effects to him. Properly fitted masks allow for airflow while still covering your nose and mouth, this makes accumulation of carbon dioxide impossible.
Fact: Wearing a mask properly is the way to make it effective against spreading the virus.
Here are the CDC rules for wearing your mask properly:
A mask must cover both your nose and mouth
It must fit snugly but comfortably against the sides of the face
It must be secured with ties or ear loops
It should have multiple layers of fabric
It should allow for unrestricted breathing
It is able to be laundered and machine dried without damage or shape changes
Fact: According to the CDC, studies show that most people have no symptoms of COVID-19.
With this virus, it is common that those who are infected and contagious may show no symptoms of disease. These asymptomatic carriers can increase the spread by not wearing a mask, washing their hands, or practicing social distancing.
Without having a test to confirm antibodies or that one indeed has COVID-19, it is critically important for everyone to wear a mask to help slow and stop the spread of the virus in our community.
At Allegius, your health and safety is of utmost importance to us. Our branch locations are now open with restrictions to ensure the proper safety precautions are in place so that we can best serve you. Don't forget to visit our 24-hour ATMs and online banking options for your financial needs.
View all posts