Unique Thanksgiving Recipes to Shake Up the Holidays
Published: 11/11/2020 By: Allegius Credit Union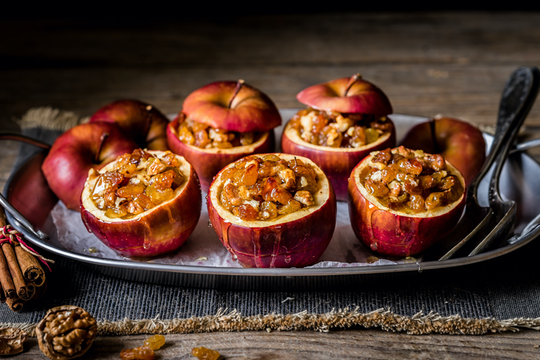 We've had it mom's way for years now, and it's been delicious, but we want to put our own spin on some of our holiday favorites. Serve up something unexpectedly scrumptious to keep everyone excited and satisfied!
Forget the old russets, chuck some sweet potatoes in a pot and put out that sweet/savory vibe everyone has been talking about. Not only are sweet potatoes more nutritious, they are just as delicious and will add some beautiful color to your table!
Maybe you aren't making a bird this year, maybe it's ham for the win or roast beast or even, *gasp* vegetarian. Nothing wrong with any of those options but you might not be getting the drippings to whip up a classic gravy. Here is your recipe to the rescue!
Bread pudding but make it pumpkin spice. We know, we know, pumpkin spice again? Pecan pie meets a pumpkin and they drink some bourbon with a brioche. You can't lose.
Savory Baked Apples with Sausage Stuffing
This one is for those of you who really want to create that wow factor. Here we go combining sweet and savory again but with a smack of tart to it. Honestly, we'll take stuffing in any container any time, including in baked apples.
Cheesy Brussel Sprouts with Bacon
Got your stretchy pants ready? It's cheese, it's brussels, and it's bacon. Oh, and more cheese. Yes, yes, yes, and yes.
Terrified yet? Hey, nothing wrong with spicing it up a little from time to time. This is for sriracha lovers only. Are you adventurous enough to try it on Thanksgiving?
Planning, buying the groceries and chefing it up on the day can be exhausting so make sure to enlist some help as well as some rest time for yourself. Or, forget cooking and just order takeout. Whatever you do, make sure you have your holiday budget ready to go not only for the extra grocery expense but also the impending Christmas spend-a-thon. Check out all the ways you can get your finances together at the Allegius website.
View all posts