Road Trip! Check out these mini adventures, right down the highway!
Published: 07/13/2021 By: Allegius Credit Union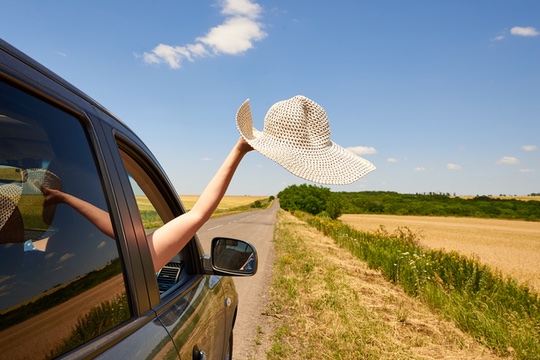 Indiana has so much to offer us for daytrips, weekend getaways, and full week stays that it was hard to narrow down our list of must-do road trips. Read on to find your destinations and stops along the way for your road trip adventure.
Madison
Off the banks of the Ohio River, Madison offers you history with the Lanier Mansion. A beautiful nod to Greek architecture with great columns, a spiral staircase and a spectacular garden. Learn Madison's history from a horse-drawn carriage and then head out for some vintage antique kitchenware, jewelry, and more!
Hendricks County
Fun for everyone waits for you at The Tie Dye Lab, where everything is all set up to flex those creative muscles! Create something colorful and completely unique and best of all, just leave the mess behind.
Next, head over to McCloud Nature Park for hiking, bird watching, an art gallery, and some stunning photo ops.
For a cool down on a hot day, take the kids to Splash Island waterpark and chill in the leisure river or head for the waterslides.
French Lick
Wilstem Wildlife Park is where you can get your fill of non-native wildlife! While there, you can go horseback riding, ATV tours, zipline, or just hang out with the kangaroos.
Next, head over to the French Lick Casino and roll the dice on a good time!
Caves
If spelunking is on the agenda, then you should take a look at Indiana Caverns Adventure Park! It's Indiana's newest cave park with boat rides, the Bat Chaser aerial coaster and more!
Next you can head over to Squire Boon Caverns to see underground streams and mine for gems.
Amish Country
Made-from-scratch meals, shopping, horse-drawn carriages, and amazing craftsmanship are just a few things to admire when you visit northern Indiana's Amish Country. Start with the Quilt Gardens along the Heritage Trail to combine gardening, art, and quilting into one special ride that includes hand-painted murals.
Don't forget that wherever your travels take you this summer, Allegius is always there to assist with your financial needs. Need to find an ATM or a shared branch location close by? Check out our access to thousands of branches and ATMs across the country.
View all posts