Allegius Staff and Members Raise over $3,400 for Toys for Tots
Published: 01/03/2022 By: Allegius Credit Union
Published In: Holidays, Charity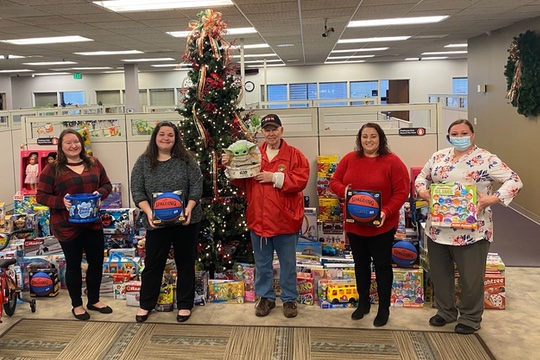 Allegius members and staff raised over $3,400 for the 2021 Toys for Tots campaign. Between member donations, member gifts, Allegius staff jean day donations and a monetary donation from Allegius, we were able to purchase over 290 toys to help bring joy to area children and families.
Allegius' staff member and Chair of Allegius' Toys for Tots campaign, Courtney Evans, states, "2021 was still a difficult year for families and our communities. Knowing these gifts gave families some smiles on Christmas morning is priceless. I'm so honored to be able to participate in the Toys for Tots program and to work at a business where our employees and members are passionate about being able to do this for our community families."
Thank you, Courtney! Courtney is instrumental with her yearly heartfelt efforts to organize the Toys for Tots event, and spends hours of her own time gathering coupons, online shopping and purchasing toys at local businesses. We are proud to have her as one of many fantastic Allegius employees who are actively giving back to our branch communities.
Pictured are (left to right) Ashlee Skalka, Allegius staff member; Courtney Evans, Allegius' Toys for Tots Organizer; Reggie Hess, Toys for Tots Local Director; Yolanda Torres, Allegius staff member; and Erica Hosie-Back, Allegius staff member.


View all posts